We are so excited to announce the Grand Openings of not one, not two, not three, but FOUR new shops at With Love Studio!!
First, we'd like to welcome Christaly!  She creates amazing templates, word arts and brush designs! Stop by her store and pick up some fun items for yourself!
Next, we'd like to introduce, Pamela Bachmeyer Designs!  She's having a 40% off everything sale in her store to kick off her grand opening!!
Then, we welcome WinksArt Graphics! Her cute kits will amaze you… you have to check them out!!! And even better, her entire store will be 40% off through June 15th!!!
Last, by not least, we'd like you to say hello to Charly Renay Designs! She has so much fun new stuff in her stores, you are going to want to get it all!!
We've also got some amazing new releases from the wonderful designers you know and love!!
How about an amazing baseball kit – just in time for Memorial Day Weekend! This digital scrapbook kit,  from Pretty Ju Scrap, celebrates the All-American sport with it's red, white, and blue! Grab this kit today and hit a homerun!!
Speaking of GORGEOUS! How about this amazing digital kit from Eudora Designs?! I just love the rich jades and soft turquoise in the kit, Sound of the Sea! It's so beautiful, how can you resist it's siren call?!
Here's another soft and beautiful kit,  Sophisticated Lady from Romajo Designs! This kit is filled with soft pastel colors and beautiful papers and elements that makes it versatile and irresistible!
Lastly, we have this super fun kit, "On My Honor," by Sugar Moon Designs. It's a kit jam-packed with everything Girl Scout! It's got your patches, your cookies, your girls, and so much more! Grab it today and scrap your scouting memories!
This Memorial Day weekend, you'll find all of these great new kits on sale – but make sure to check out the Memorial Day Sale – everything in that category is 50% off!! Wow! So many great kits from all the designers!
Everyone at With Love Studio wishes you a WONDERFUL weekend filled with LOVE and happy memories!
How would you like to win a special coupon from Lisa Rosa Designs?  Today is your lucky day!  We are running a special BLOG ONLY challenge!  We want you to show off your scrapping skills with Lisa Rosa Designs' products.  It can be any of her products but your layout must be 100% Lisa Rosa Designs.  ***Exception – you can use anyone's templates.*** 
In order to in the random drawing you must have your layout uploaded to our gallery, posted and linked in the comments of this post by Tuesday, May 26th at 6:00 pm Eastern.  The winner will be picked in a random draw and announced here on the blog Wednesday, May 27th.  Make sure you include your forum user name so we can get your coupon to you.  The winner will get a $7.00 coupon to be used in Lisa Rosa's WLS store!
Lisa's designs range from fun to elegant.  There's something for everyone in her store!  I love the vibrant colors and themes that Lisa chooses to base her designs off of.
Here's a look at some of my favorite products from Lisa Rosa.
These and more wait for you to find your newest "must have" kit!  I can't wait to see what you create with Lisa's Designs!  Good luck!!!!!
This is a perfect kit to kick off your summer vacation with! Pretty Ju's, "Tropical Breeze"
I just love this little cutie from Chunlin Designs, "Sleep Tight."
Here's another GLORIOUS kit from Designs by Romajo, "Glory of Warmth."
And with Lisa Rosa's  kit, being "Untidy" never looked so GOOD!!
Oh my gosh – how splendid is this kit? "Sunset Boulevard," by Midnight Owl Designs!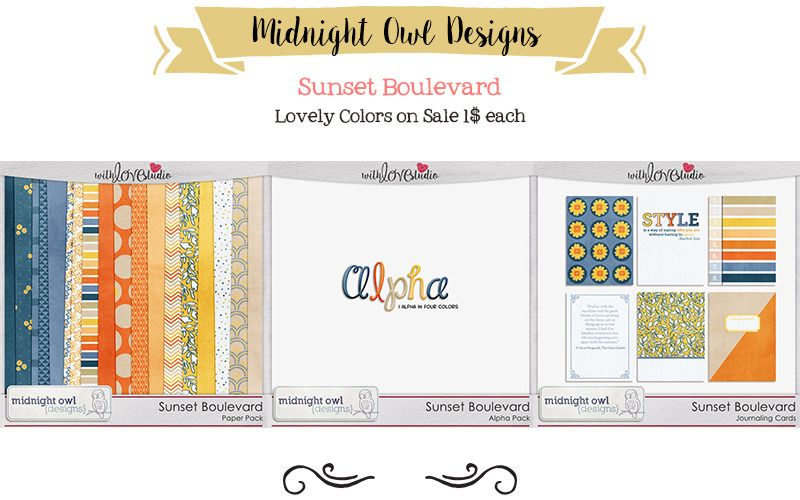 Once you've chosen your Lovely Colors, head over to the challenges and join us for the Lovely Colors Challenge!  You can make a  layout, a hybrid, a journal card . . . whatever your heart desires!!  Here are a few of the most recent layouts in the challenge, aren't they fabulous!?!
Friday is my favorite day of the week! I love it because you get a little work done and feel accomplished, but you also know that after work you have the whole weekend stretching out before you! Time to relax, spend some time making some good memories, or maybe scrapping those good memories?! Yes, that sounds like a plan!  This week we've got some more AMAZING digital scrapbook kits for you to work with!
First up is Romajo's "Glory of Luck" This is a really gorgeous kit with mint green, purple and whites . . . it's going to look so lovely with your photos!
Next, we have this beautiful, beautiful kit from Midnight Owl Designs,  "A Mother's Heart" – I just love these colors and this kit's sweet elements and word arts!
Don't forget that we also have Lovely Colors releasing today! Each pack is only $1.00 each!
This is a perfect kit to kick off your summer vacation with! Pretty Ju's, "Tropical Breeze"
I just love this little cutie from Chunlin Designs, "Sleep Tight."
Here's another GLORIOUS kit from Designs by Romajo, "Glory of Warmth."
And with Lisa Rosa's  kit, being "Untidy" never looked so GOOD!!
Oh my gosh – how splendid is this kit? "Sunset Boulevard," by Midnight Owl Designs!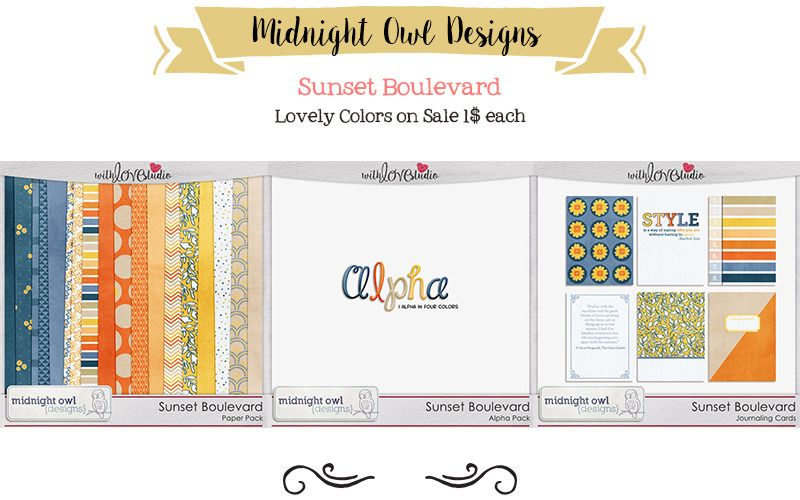 With these sale prices you have no excuse to be bored this weekend! I hope you fill up the gallery with all your gorgeous layouts, I can't wait to see them all!  Have a LOVELY weekend!
Hello Everyone!
Robin here to share with you a lovely layout I spotted in the gallery this morning – Standout by liljatr.  I love the use of white space in this layout, and the scrapped photo is adorable.  The kit used for this gorgeous piece of work is Chunlin's A Little Weird.  Beautiful work, liljatr!
I have been a part of the digiscrap online world for about 7 and 1/2 years now.  Over those years I've seen many different fads, trends, and more come and go.  What has stayed constant has been our common desire to tell our stories.  There's a style out there for everyone.  Some of us like trying out different styles from time to time, while others of us like to stay true to one style and perfect it.  I fall into the first category.  Over the years I've tried a bit of this and a bit of that and have enjoyed the ride.  I have to admit though, when I look back at my first year of layouts I cringe a bit but I still love the stories that they tell. 
About a month ago I was asked to stay on as a blogger for With Love Studio but in a slightly different role than before.  I have been tasked with what are lovingly referred to as "random" posts.  LOL  I think it suits me pretty well since I am a bit "random" myself.  What I'm going to try to do over the next few weeks/months is add a "tips" post here and there  I hope that you'll find something during this journey that will help you find your own scrapping style/focus.
On to today's tip!!!
Susan's Random Scrap Tip #1
Choose a focal-point photo. This photo should draw your attention first.  Use other photos to enhance the telling of your story. Think of them as pairing a wonderful pair of shoes, a gorgeous pair of earrings, and a necklace with a favorite blouse.  The shoes, earrings, and necklace enhance the blouse to create a finished look.  These extra photos will make the story seem more complete and easier to understand. We read from left to right so place your focal-point photo in the upper left hand corner and let the other photos and embellishments flow from there.
Here are a few layouts from the With Love Studio Gallery that caught my eye as I thought about today's tip!
Hiking to the TOP of the Rock by poki04
Welcome to My Garden by LisaRosa
Back to School 2014 by joey44
Have you seen a layout that you think matches today's tip?  Have you made one that you think demonstrates today's tip?  Link us up in the comments!!!  See you next week with more fun from With Love Studio!
~Susan~
Last week I asked you to think about your "focus" when you scrap.  It seemed fitting that I would focus on a particular challenge today!  This month's Use It or Lose It Challenge has me blown away with the gorgeous layouts that have been created not to mention the FABULOUS full kit that you will get from our wonderful designer, Chunlin Designs, just for participating.
What is the Use It or Lose It Challenge?  Well, you take the pieces shared in the challenge and you make a layout using every piece.  You can't leave anything out but you may duplicate what is there.  If you use every single piece in the mini-kit then you earn the full kit!
Here is the preview of the mini-kit from Chunlin Designs (download link is in the forum thread).
Here are some of the layouts that have already been shared by some of you in the challenge.  All of the ones that have been shared so far are AMAZING!
Come join in the fun and show us how you can use the mini to create a spectacular layout!  I look forward to seeing what you come up with!
See you later!
~Susan~
We have some amazing new releases for you this week! I'm so excited to share them with you!
First, we have a kit from PrettyJu that is PERFECT for this season! "Born to golf" I just love the colors, they will make any golfing photos stand out! This kit is full of fun elements and awesome papers, I also love the complete set of word arts to spice up your layouts, and check out that wonderful layered alpha! This kit is a definite "hole in one!" Get your today while it's on sale!
Next we have just the most lovely kit from Romajo, "Sophisticated Lady." It's an absolutely beautiful kit, created with soft vintage feel colors – so gorgeous and so versatile! This Sophisticated Lady comes with a complete set PLUS two add on paper packs! So much wonderful in ONE package – get this gorgeous kit while it's on sale!
Lastly this week we have a fun and whimsical kit from Chunlin Designs, "A Little Weird," and really aren't all the best people a little weird? This kit is perfect for capturing all the crazy moments and quirky personality traits of the people we love. Let's celebrate those differences! Grab yourself a copy of "A Little Weird," today!
Also, make sure to check out the With Love Studio Mother's Day sale – OH WOW you are going to LOVE this!  So many kits from our designers ALL 40% off THIS WEEKEND ONLY! 
Here's a sneak peek at the kits you'll find on sale . . . .Now get on over there and treat yourself!
Focus: noun – 1. The center of interest or activity.  2. The state or quality of having or producing clear visual definition.  What's your focus when you are creating a layout?  For some it may be the photo.  I see lots of layouts with just a photo or multiple photos and they are beautiful creations artistically speaking.  I know I've made some of those (okay a lot of those over the years) but that's not the focus that I started out with when I began my journey into digital scrapbooking.  I bet that's not the focus that you had either.  My focus was to tell the stories behind the photos so when my children looked at the layouts and books as they got over the story would be there for them.  I have tons of photos from my parents, grandparents, and great-grandparents that I know nothing about the story other than the name on the back of the photo.  Sometimes not even that survived over the course of time as hands caressed the photos and wore the writing off.
So, that brings me to the reason behind today's post.  I want you to think about your focus when you sit down to scrapbook.  There's absolutely nothing wrong with making a layout with just photos and trying out different styles.  That's how we grow in our own skills and let's face it, it's fun and a great creative stress relief!  If that's your focus then create away and set your artistic soul soaring!  If your focus is to tell the story behind the photos or to save a particular memory, where will you start?
I took a stroll (well a scroll) through our gallery here at With Love Studio and I found some layouts that I feel may help those of you who want to really tell your story. 
This week I challenge you to find your focus.  Upload your layout to the gallery and link us up here in the comments.  Tell me what your focus was, whether is was to work on a special artistic effect, try a new skill, relieve some creative tension, or tell a specific story.  I can't wait to see what you come up with!
~Susan~
May a month of remembrances, so the With Love Studio designers put together this digital scrapbooking kit, it's a beautiful tribute collab, Forgetting You Never,  made for you to scrap some of your precious memories. We chose colors that were soft and comforting, to display your photos and mementos, but not overwhelm them.  We love how it turned out, and we think you're going to love it too!  Make sure you get your copy before May 7th – that's when the sale ends!!
You can see in these layouts how amazing your memories will be kept.
The wonderful thing about, "Forgetting You Never," is that it is versatile, and can be used to scrap lots of memories, not just tribute or memorial pages.
We also have some wonderful coordinating products for this special kit!  First, we have some fantastic journaling cards – and you can get them FREE when you purchase the collab!
Did you say you wanted more FREE stuff? Well, since it's you we'll do it! If you stop by our Facebook page, we have a FREE coordinating mini kit for you!  So after you purchase the Collab and get your FREE journal cards, stop by and grab the FREE Facebook mini kit!
Thanks everyone, and have a LOVELY day!!!