Have the kids already started back to school? This week my oldest started 4th grade and is finishing up her first week of school today! It's been nice having her return and only having one child at home during the day, but I've found myself bored and wanting to find my routine. Well to cure my bored-ness I have been finishing up my yearly scrapbooks for the daughter since she just had her birthday. Anyway, enough of my rambling what I'm getting at is now that school started I now have more time for my hobby, Scrapbooking! Like many of you we've spent the past 2 months getting those school clothes and school supplies and now it's time for us to enjoy our free time, but first we need to stock up on our "Back to School Scrapbook Supplies" and With Love Studio has you covered. SAVE this week by taking 40% off everything in our shop! That's right a 40% off STOREWIDE SALE!!!
and to top it all off we even have some great new releases this week along with our Collab and Lovely Colors coming on Monday, SO… SAVE! SAVE! SAVE!
New Releases!
Don't forget you can earn Gifts with Purchase each week with your $5 or $10 purchases!
Hey, With Love Studio Blog readers! Hope everyone is having a wonderful day or evening. I'm Tammy and am honored to be part of the Creative Team at With Love Studio!! The designers and forum users at With Love Studio are friendly and fun and the designers keep cranking out good stuff! I would love to have you come and participate in the challenges. 


I'm a stay at home lady. I've been married 33 years to my best friend ever! We have seven sons. Yep. You read that right 7. And yes, they're all boys…and guess what? We're also Grampa and Gramma to three grand… (wait for it) SONS! I love my boys, though. They're awesome! Three of them are married and living on their own. The other four are still home with my man and I. We're homeschoolers and we've graduated six of them. The last one starts his Junior year in a month or so. I love hiking, reading, photography and Digital Scrapbooking!! 

I got my digi start back in December of 2008, joining in with a class from a lady named Shimelle, called Journal Your Christmas (which is still happening every year). Once I got started, I was hooked. I'd never been interested in the paper form. It seemed like way too much work and way too much mess. Since that time I've made too many layouts to count. Some of them have made it in to books printed at home and some in to books printed by companies.

I'm a font-a-holic and a template addict! I LOVE templates. They're so versatile and can be tailored to fit whatever mood I'm in. I can rotate them, delete whatever I don't want on them, combine them, etc. I created this layout using a free challenge template from Sugar Moon Designs and a kit from Mags Graphics – Beach Fun. I normally pick my photos first and then go searching for a template with the same number of photo places. I like my photos to be the main point, so tend to keep my elements to a minimum and my photos larger. Although, sometimes it's fun to add a bunch of elements. 




Thanks for letting me ramble and come on over to the forum at With Love Studio and hang out and get your scrap on! 
Hi there, today we have a few new release sneak peeks to show you and our new week of Lovely Layouts to vote on. But first, lets congratulate last week's Lovely Layout Winner, liljatr, with this beautiful layout
and here are our Sneak Peeks this week: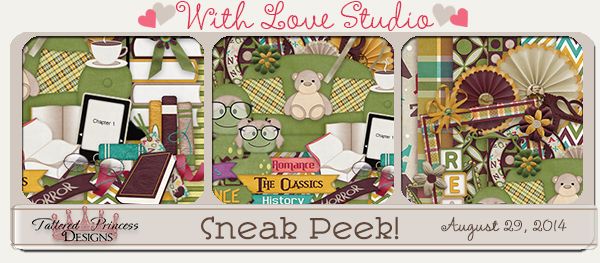 and don't forget to vote on our new Lovely Layout nominees this week:
This week we have one new release from our Featured Designer, MagsGraphics. Pick up her newest part of her Faith 365 series that is all about Mission Trips.
and along with this kit all her kits are on sale this month in her Featured Designer Sale:
Save even more with our Gifts with Purchase freebies this week for any $5 or $10 purchase
We are back this week a new Lovely Layout of the Week and we have 5 great layouts for you to choose from as your favorite. Please vote!
We are always on the look out for amazing talent to join our team!! If that's you, take a moment to fill out the following application! We will review it and get back with you.
Sorry we're a day behind getting this posted, but our Lovely Layout of the Month WINNER is …
Greenfiend with this great layout:

and here is our 1st week of August Lovely Layout WINNER!!
Congrats Leda with this beautiful layout:
and for this week we don't have any layouts to vote on as we only had one nominee so we will crown the one layout nominated this week our winner! Congrats Marilyn (jmzumer) with this beautiful layout:
and we have 1 sneak peek this week:
This month our spotlight is on Mags Graphics.  I love getting to know the person behind all the fabulous digital scrapbook designs that allow us to tell our life stories for others to see.  Let's get started!
1. Tell us a little about yourself. Where are you from, where do you live, do you have another career? Any other exciting info or dark secrets you'd like to share?
I'm a former 1st grade teacher turned SaHM of two boys. I've been scrapbooking since I was 15 (in some form or another). In fact, my first scrapbooks involved construction paper albums and Elmer's Glue (Yikes!). I tried digital scrapbooking in 2007 and never looked back! Now that my kids are older (13 & 10) I design full-time while they're in school. I live in SW Ohio, USA – and I'm a total geek. I'm a complete Buffy the Vampire Slayer addict… as in a I have a 10ft shelf of action figures in my Scrap Room…
2. What is your background in designing? How did you start?

I wanted to learn to make small web animations – forum signatures so I joined several PSP tutorial groups when my kids were babies. When I stumbled upon a digital scrapbooking website, I was so excited to be able to mix my love of scrapbooking with my love of digital graphics!
3. What is your newest (or featured) kit – tell us about it:

My newest kit is called "Hanging With Friends" – it's a chance for you to show off your besties and all of the great times you have together.
4. What is your favorite thing to do besides scrapbooking or designing?

Wait… there's something else to do? I love to read, see movies, hang with friends, and watch mindless TV.
5. Tell us what your perfect birthday would be like!

I'd be happy to sleep in (like until 7AM?!), see a movie with the family, get some new tech toys, and eat at my favorite restaurant. I'm easy to please!
6. Got any hints for us on what we'll see from you in the future?

I've been releasing a new collection each month as part of my Faith365 Series. These faith-based collections are packed with items to scrap your faith journey and your every day life. The August collection is coming soon!
7. How much will your store be on sale for during your featured month?

My store is 35% OFF all month! And there's a BONUS Coupon of $6 off $20 with this code: WLSMAGS6off20
Let's take a closer look at her Featured kit: Fun With Friends.  This elements in this kit are super cute and have just the right touch of whimsy to make many fun layouts! 
These two layouts were created with Fun With Friends by the talented layout artist, Cori Burnett.
I hope you check out Mags Graphics' store and find some new favorites to tell your stories with.  Until next time, here is a coordinating cluster frame freebie from Mags Graphics.  Enjoy!
DOWNLOAD HERE
Live, Laugh, and Scrap!
~Susan~
This week we have some really fun new releases coming your way. Check out what is new and see what challenges you can complete with them in our Monthly Challenges in the forum. Also, if you get our newsletter be sure you read it this week, because it has 2 great freebies for you. And lastly, come back Monday and get your exclusive blog freebie from our Featured Designer, MagsGraphics, using her newest With Love Studio Exclusive Featured kit "Friends with Friends":
New Releases!
and as always we have great Gifts with Purchase freebies this week: